Welcome to Atlantic Protective Services !
Security is just the beginning…
Atlantic Protective Services was founded in 1982 as a security guard services company in the Tidewater area, providing both armed and unarmed security officers. The company remained localized in Tidewater, building an enviable reputation for high-quality, reliable service. In 1988, APS began security services outside the Commonwealth of Virginia , and over the years has provided service in North Carolina, Massachusetts, West Virginia, and the District of Columbia, just to name a few areas.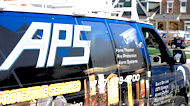 Atlantic Protective Services knows security
Protection of your family and property can be achieved by utilizing several different types of security devices. Options range from door and window contacts to glassbreak and motion detectors to environmental sensors.
Door and window contacts detect the opening and closing of doors and windows. Your system can be configured to either simply sound an alert when those contacts are triggered, or automatically send the alarm to our monitoring station, indicating possible intrusion. In addition to possible intrusion alerts, these contacts can also signal to let you know if you've accidentally left a door or window open before leaving home. The system can even let you know which door or window is the problem.
Glassbreak and motion detectors offer more generalized and wider coverage within your home. Glassbreak detectors will "listen" for the sound of breaking glass that is common with forced entry. A motion detector will look for the movement of an intruder. Like the door and window contacts, the glassbreak and motion detectors can also be configured to alert or alarm.